PRESERVE VALUE IN THE THINGS YOU CARE ABOUT
Detailing Enthusiasts & Paint Protection Specialists
At Sunshine Auto Spa we provide numerous automotive detailing services to meet the needs of our community. From interior and exterior details, to Ceramic Pro, clear bra, window tint, body work and mobile detailing we strive to provide an auto-detailing environment for Santa Barbara. Our shop protects literally anything from the rims, to the windows and everywhere in between. Our coating services protect your exterior surfaces and adds hydrophobic properties while reducing required maintenance and car washes. The automotive detailing services removes buildup and restores cleanliness while the tint services protect the cabin and it's occupants from premature aging. Our warehouse can handle even the most expensive car as we have a multi-million dollar insurance policy.  With a central location in Santa Barbara, our Auto Spa provides a valuable service for all of our clients.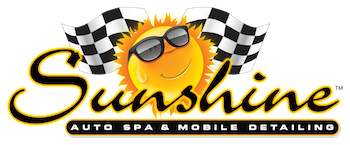 Protect the things in life
that you care about.
Since 1996 we have continuously delivered high end automotive detailing services to countless satisfied customers.  Our experience and passion for protecting vehicles means that we do not settle for anything other than perfection.
Top-of-the-line paint protective products
Best all-round clear bra materials
High performance window tint film
Highly experienced technicians
Luxury auto detail service
Interior & Exterior Detailing Services
We detail some of Santa Barbara County's best vehicles
We have incredible customer loyalty
Sunshine Auto Spa is one of the leading auto detailers in the state of California. As an authorized partner of 3M, Suntek, and Ceramic Pro, this shop uses the newest technologies in the constantly evolving detailing industry.
Craftsmanship and customer service is the reason I keep coming back to Sunshine Auto. Knowledgable experts with a genuine passion for the profession.
Our shop uses top of the line products to protect your valuable investment.  The Ceramic Pro line protects your vehicle's surface in all environments.  Shield your vehicle from the diverse climate of California. From the Pacific to the Sierras and the Santa Ynez Mountains in between, Sunshine Auto Spa protects your investment.
Our coating protects from corrosion and fading
Our clear bra protects from rock chips and scratches
Our window tint protects the interior from the sun
Our detailing service protects the car owner from a bad first impression
WHY IS PAINT PROTECTION IMPORTANT?
Intelligent car owners understand the importance of staying on top of their car's mechanical maintenance to extend the lives of their vehicles. Regularly scheduled maintenance and oil changes greatly increases the life of a vehicle. But what some people don't consider is how protecting paint of a vehicle can drastically improve the resale value of a vehicle. Every day your car is exposed to blemish causing environmental contaminants. From brake dust, water buildup, dirt and insect acids a car's exterior is constantly exposed to blemishes that compromise the coat. With the addition of paint protection a vehicle gains a nano-ceramic or polyurethane shield that keeps the paint in pristine condition.
We offer two forms of paint protection at our facilities. Ceramic Pro is a nano-ceramic shield that hardens on your vehicle and acts as a ceramic case around the paint. Clear Bra, or paint protection film, is a polyurethane shield with elite protection from rock chips, dirt, insect acids and tree sap. Both of these forms of paint protection go on clear and are nearly invisible to the naked eye. If you are a car enthusiast we offer packages backed by lifetime warranties. If you're new to paint protection we offer introductory packages as well. Our mission at Sunshine Auto Spa is to protect your vehicle. Protection is what we do best and we strive to protect your investment.
Get a free quote for Ceramic Pro paint protection installation